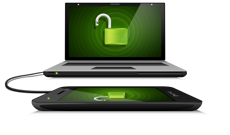 HTC has gone ahead and released their own unlocking tool (a bit late though lads!) for the HTC Sensation (FOTA 1.45.401.2) only at this present time. However this being said, they have been so bold as to state the following on their page:
However, due to some of our carrier customers concerns, certain models with specific restrictions may not be able to be unlocked.
How nice, so this means that if a carrier (i.e Orange, T-Mobile, etc..) said "Nah, we don't want our customers loading custom ROMs on our phones because we'll lose money from the bloatware" then HTC don't have to allow them to be unlocked and will effectively act as a judge, jury and executioner! So much for an open world and so much for HTC keeping their promises to let everyone unlock their devices.
This isn't all the bad news out of the way just yet:
Please understand that you will not be able to return your device to the original state and going forward your device may not be held covered under the warranty for all claims resulting from the unlocking of the bootloader. HTC bears no responsibility if your device is no longer usable afterwards.
Once you unlock your device, you can no longer return to being S-ON or Locked if i'm reading this right. If you use HTC's bootloader unlock tool then you will void your warranty with HTC and they have every right to refuse to fix your device. Even if it's a hardware fault and has nothing to do with loading custom roms on your device, they can just turn around and say they won't fix your device because it was your fault for unlocking your bootloader. Obviously they can't do this with all cases but i can see a fair few people falling foul to this 'policy'. Watch, wait and see.
However, on to the good news if you want to be all 'official' and be unlocked the non-hackery way like how Revolutionary works, then you can go unlock your bootloader (this still needs be clarified if it's S-OFF or not) at HTC Devs website here:
Bare in mind, you will need to register an account with them to unlock your device, you will be required to give personal information about your device which will void your warranty of your device and you will not be able to go back afterwards.
If you're like me, you'll go and use Revolutionary and keep your warranty and be able to go S-ON at any time for sending your device in for repair. Trust me, it's safe and it's a much better option in my opinion.
Enjoy this article?